Read Time:
3
minutes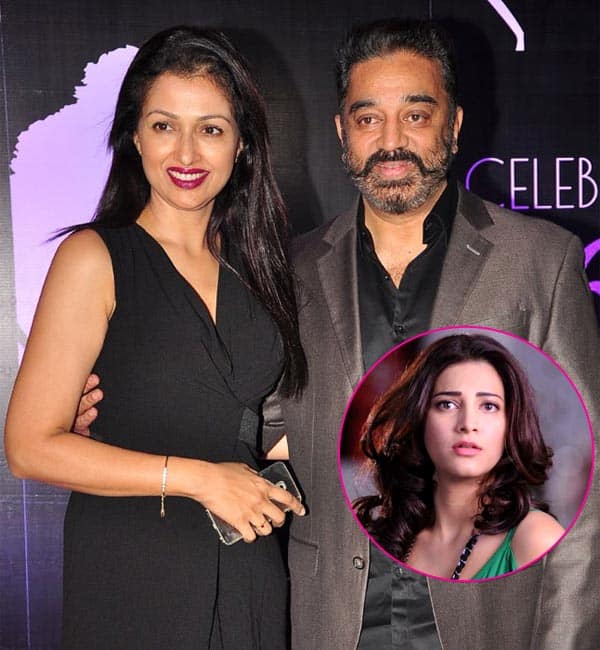 On November 1, Telugu actress Gautami announced through her blog that she and Kamal Haasan were calling it quits after a 13 year live-in relationship. The article titled Life and decision talked about how it was the most difficult deicison she had take, but they had no other alternative before them. It took a couple of years to finally come to this truth. But she did mention she would continue to respect Kamal Haasan and his work. Seems like the split was a mature and understanding. Even Kamal Haasan prioritised her happiness over his feelings when he spoke to Deccan chronicle about the split, "Whatever gives her comfort and solace is fine by me. My feelings at the moment are of no importance. What matters is that Gautami and Subbu should be comfortable and happy. I wish them all the best and want them to know I am there for them whenever they need me. I am blessed with three daughters — Shruti, Akshara and Subbulakshmi. I consider myself the luckiest father in the world." Of course post this news, questions about what caused it are bound to arise. Was there a third party involved, or was it a mutual decision, both had come to?
Quite a few reports are pointing fingers at Shruti Haasan, Kamal Haasan's daughter because it was only three months ago, she and Gautami had a major showdown on the sets of Sabash Naidu regarding costumes. For those who don't know, the movie is Kamal Haasan's upcoming directorial venture, where the father and daughter are sharing screen space for the first time while Akshara is reportedly assisting him. As for Gautami, she is the one, designing the consumes. Turns out, Shruti Haasan didn't take to her designs and had regular arguments with Gautami so much so, this one time, it turned really ugly and they had to cancel the shoot that day. But later, Shruti's spokesperson cleared the air and mentioned that the final costumes were a result of a combined effort and that everyone was happy with it. However, when Shruti was asked if she had a chance to speak to Gautami after their alleged spat, she dodged the question – "I'm quite busy with my shooting and I just have enough time to spare to meet my dad, Akshara and my friends. I don't have the privilege of time to meet everyone all the time. But, I've always said that my dad is one of the most important people in my universe and if someone's important to him, I respect that person."
Adding fuel to the fire, Shruti and Kamal Haasan were recently seen celebrating Diwali together in Chennai and Gaumati was nowhere in sight. In fact, the father-daughter duo had also shared a mirror selfie, wishing their fans. And now we have found out, Shruti Haasan and Gautami don't follow each other on Twitter either. Both follow the one common factor between them – Kamal Haasan. Back in June, when asked if she called Gautami her mom, she retorted "Why do I call so. I've a mom and she is Sarika. Since, my dad finds happy space with her (Gauthami), I've no issues." But here's another news, rumours of a split were rife way back in July itself around Guatami's birthday. Because as per a leading tabloid, when she was asked whether Kamal Haasan was throwing her party, here's what she said," I don't know. You will have to ask him. I think he's out of the country and shooting in Los Angeles." And this was way before Guatami-Shruti's spat. So probably, they were eventually heading a for split, third party or not.
This news has come as a shock to the recent industry, considering Gautami and Kamal Haasan have been good friends for the longest time.